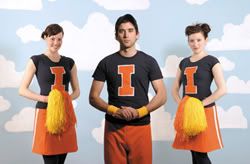 Sufjan Stevens is in the forefront, side by side with Sam Beam, leading all of the other aspiring indie folk rockers. Sufjan's new album, Illinois, 2nd in his 50 States, 50 Albums project, will be released July 5th on Asthmatic Kitty. This is his 6th LP, and most certainly the best. And that's quite a statement, considering how great Seven Swans and Michigan are.

First of all, look how cool all of the song titles are:
1. Concerning the UFO Sighting Near Highland, IL
2. The Black Hawk War, or, How to Demolish an Entire Civilization and Still Feel Good About Yourself in the Morning, or, We Apologize for the Inconvenience But You're Going to Have to Leave Now, or, "I have fought the Big Knives and will continue to fight them until they are off our lands!"
3. Come on! Feel the Illinoise!
-Part I: The World's Columbian Exposition
-Part II: Carl Sandburg Visits Me in a Dream
4. John Wayne Gacy, Jr.
5. Jacksonville
6. A Short Reprise for Mary Todd, Who Went Insane, But for Very Good Reasons
7. Decatur, or, Round of Applause for Your Step Mother!
8. One Last "Woo-hoo!" for the Pullman
9. Chicago
10. Casimir Pulaski Day
11. To the Workers of the Rockford River Valley Region, I have an Idea Concerning Your Predicament, and it involves shoe string, a lavender garland, and twelve strong women
12. The Man of Metropolis Steals Our Hearts
13. Prairie Fire That Wanders About
14. A Conjunction of Drones Simulating the Way in Which Sufjan Stevens Has an Existential Crisis in the Great Godfrey Maze
15. The Predatory Wasp of the Palisades Is Out to Get Us!
16. They Are Night Zombies!! They Are Neighbors!! They Have Come Back From the Dead!! Ahhhhh!
17. Let's Hear That String Part Again, Because I Don't Think They Heard It All the Way Out in Bushnell
18. In This Temple, as in the Hearts of Man, for Whom He Saved the Earth
19. The Seer's Tower
20. The Tallest Man, the Broadest Shoulders
-Part I: The Great Frontier
-Part II: Come to Me Only With Playthings Now
21. Riffs and Variations on a Single Note for Jelly Roll, Earl Hines, Louis Armstrong, Baby Dodds, and the King of Swing, to Name a Few
22. Out of Egypt, into the Great Laugh of Mankind, and I shake the dirt from my sandals as I run

There is a wonderfully comprehensive post over at Gorilla vs. Bear that links to all of the leaked tracks as well as an article on the upcoming album. Honestly, I cannot wait to hear this album in its entirety. I have heard naysayers that think Sufjan's 50 States project is dumb or cheesy but I love it and think he's going about it in a completely tasteful, exciting way. On his website you can visit his "Say Yes! to Michigan!" page wherein Sufjan welcomes you to the state and proceeds to direct you to click on each city's link so that you can here the accompanying song from the album and also read more about the city. Also found is a comprehensive list of the state's symbols, did you know that Michigan's state fish was a brook trout? Well, now you do. You can also learn plenty of random facts about the state, such as the highest (Mt. Arvon, Baraga County, 1,979 feet) and lowest points (Lake Erie, 571 feet). This is any elementary student writing a report on The Great Lake State's dream interneck site.
Anyway, I think that John Wayne Gacy, Jr. is my favorite track so far. He sings about his serial killing so sweetly! It's really strange to sing along to.
I hope that Sufjan gets to his Kentucky album before he either dies or looses interest in the rest of the unimmortalized states. I wonder what on earth he would sing about to fill an entire cd with songs about Kentucky. The Kentucky Derby? Abraham Lincoln's birthplace? (so boring to visit by the way) uhhmm...UK basketball? Shakertown? Patti's 1880's Settlement House? God, now I really can't wait to find out! I think I'll start comprising a list of possible songtitles and send them to Sufjan so that he can start working on this project right away.